Bàn trộn kèm công suất Dynacord PowerMate PM1000-3-UNIV
(0 đánh giá)
Mã SKU: PM1000-3UNIV
Mã hàng : PM1000-3-UNIV
Bảo hành : 12 tháng
Tình trạng : Còn hàng
Xuất xứ: Mới 100%
Số lượng
Tư vấn & Báo giá
Giới thiệu Bàn trộn kèm công suất Dynacord PowerMate PM1000-3-UNIV
Bàn trộn kèm công suất Dynacord PowerMate PM1000-3-UNIV là Sản phẩm của Thương hiệu Dynacord thuộc dòng MIXER DYNACORD, được nhập khẩu và phân phối chính hãng bởi Thiết Bị Âm Thanh Sân Khấu tại Việt Nam
The PowerMate compact power mixers incorporate profound know‑how, based on our research, development and inter‑communication with our customers in the professional audio market, for decades.
It incorporates not less than six dedicated audio devices into one compact frame: mixing console, two effects units, graphic equalizer, USB audio interface and power amplifier. Each of them is on the highest quality level as you would expect from a stand‑alone device. The PowerMate is a real all‑rounder for almost all applications with maximum feature set at minimum size.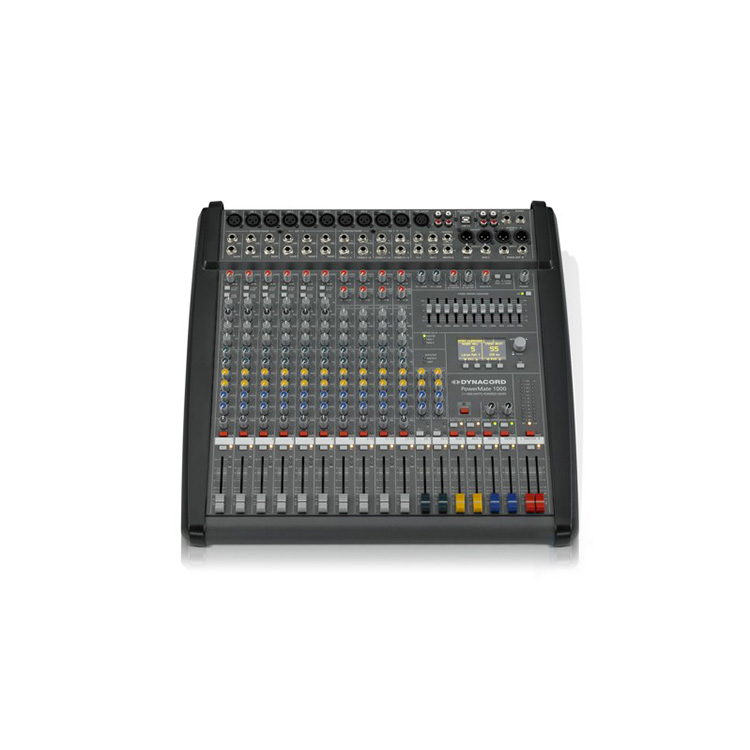 The mixing section starts with 10 lowest noise, discrete microphone preamps. 6 auxiliary busses, two of them switchable pre/post fader, allow high flexibility for monitoring. The two effects processors offer 100 factory presets, including the already legendary PowerMate‑reverbs. Further, each preset can be edited and stored to 20 User memories.
The built in USB audio interface shares 4 playback and four recording channels simultaneously with a PC or Mac, following studio standard 24‑bit / 96 kHz. An additional MIDI interface allows integration of instruments, such as keyboards. A license for Steinbergs Cubase software is part of the package. The 11 band stereo graphic equalizer can be routed flexible to master or monitor channels.
The amplifier is extremely powerful with 2 x 1000 W / 4 Ohms (RMS). Due to modern switching mode power supply technology and a class‑D output stage, it's very efficient and lightweight, too. An optional speaker protection allows limitation of long‑term power without giving up dynamics. Finally, the slim housing is protected by a rugged plastic lid with integrated handle for easy transportation.
Bàn trộn kèm công suất Dynacord PowerMate PM1000-3-UNIV Intuitive mixer with 10 input channels (6 Mic/Line + 4 Mic/Stereo-Line)
Very powerful and reliable amplifier with 2 x 1.000 Watts / 4 Ohms
2 High-Quality editable effects, 100 factory and 20 user presets
Professional 4x4 24-bit / 96 kHz USB interface with MIDI
Lightweight (14 kg) road-ready package with extra robust cover-lid
II. Thông số kỹ thuật: POWER MIXER DYNACORD PM1000-3-UNIV:
Channels (Mono + Stereo)
6 + 4
Auxiliarys (MON, FX, AUX)
2 Pre, 2 Post, 2 Pre/Post switchable
Max. Single Channel Output Power, Dynamic-Headroom, IHF-A
into 2.66 Ohms
2 x 1600 W
into 4 Ohms
2 x 1250 W
into 8 Ohms
2 x 675 W
Specifications
Max. Single Channel Output Power, Continuous, 1 kHz, THD = 1%
into 2.66 Ohms
2 x 1350 W
into 4 Ohms
2 x 1150 W
into 8 Ohms
2 x 650 W
Maximum Midband Output Power, 1 kHz, THD = 1%, Dual Channel
into 2.66 Ohms
2 x 1350 W
into 4 Ohms
2 x 1000 W
into 8 Ohms
2 x 600 W
Rated Output Power, 20 Hz to 20 kHz, THD < 0.5%, Single Channel
into 4 Ohms
2 x 900 W
into 8 Ohms
2 x 450 W
Maximum Output Voltage, of power amplifier, 1 kHz, no load
74 Vrms
THD, at 1 kHz, MBW = 80 kHz
MIC input to Master A L/R outputs, +16 dBu, typical
< 0.005%
POWER AMP INPUTS to Speaker L/R outputs
< 0.075%
DIM 30, power amplifier, 3.15 kHz, 15 kHz
< 0.05%
IMD-SMPTE, power amplifier, 60 Hz, 7 kHz
< 0.15%
Frequency Response, -3 dB, ref. 1 kHz
Any input to any Mixer output
15 Hz to 70 kHz
Any input to Speaker L/R output
20 Hz to 30 kHz
Crosstalk, 1 kHz
Amplifier L/R
< -85 dB
Channel to Channel
< -80 dB
Mute- and Standby-Switch attenuation
> 100 dB
Fader and FX/AUX/MON-Send attenuation
> 85 dB
CMRR, MIC input, 1 kHz
> 80 dB
Input Sensitivity, all level controls in max. position
MIC
-74 dBu (155 μV)
LINE (Mono)
-54 dBu (1.55 mV)
LINE (Stereo)
-34 dBu (15.5 mV)
CD (Stereo)
-34 dBu (15.5 mV)
POWER AMP INPUTS
+8 dBu (1.95 V)
Maximum Level, mixing desk
MIC inputs
+21 dBu
Mono Line inputs
+41 dBu
Stereo Line inputs
+30 dBu
All other inputs
+22 dBu
All other outputs
+22 dBu
Input Impedances
MIC
2 kOhms
Insert Return
3.3 kOhms
2Track Return & CD In
10 kOhms
All other inputs
> 15 kOhms
Output Impedances
Phones
47 Ohms
All other outputs
75 Ohms
Equivalent Input Noise, MIC input, A-weighted, 150 ohms
-130 dBu
Noise, Channel inputs to Master A L/R outputs, A-weighted
Master fader down
-97 dBu
Master fader 0 dB, Channel fader down
-91 dBu
Master fader 0 dB, Channel fader 0 dB, Channel gain unity
-83 dBu
Signal/Noise-Ratio, power amplifier, A-weighted, 4 Ohms
105 dB
Output Stage Topology, amplifier
Class D
Equalization
LO Shelving
±15 dB / 60 Hz
MID Peaking, mono inputs
±15 dB / 100 Hz to 8 kHz
MID Peaking, stereo inputs
±12 dB / 2.4 kHz
HI Shelving
±15 dB / 12 kHz
Master EQ 11-band (63, 125, 250, 400, 630, 1k, 1.6k, 2.5k, 4k, 6.3k, 12k Hz)
±10 dB / Q = 1.5 to 2.5
Filter
LO-CUT, mono inputs
f = 80 Hz, 18 dB/oct.
VOICE FILTER, mono inputs
switchable
FEEDBACK FILTER, MON 1/2
70 Hz to 7 kHz, Notch, -9 dB
Speaker Processing
LPN, switchable
Effects
Type
Dual stereo 24/48-bit multi effects processors
Effects presets
100 Factory + 20 User, Tap-Delay
Remote control
Footswitch, MIDI
Display
128 x 64 pixels, OLED
Digital Audio Interface
Channels
4 In / 4 Out
AD/DA Conversion
24-bit
Sampling Rate
44.1 / 48 / 88.2 / 96 kHz
PC Interface
USB2.0, Female Type B
Peak Display
6 dB before Clip
MIDI Interface
5-pin DIN connector, In / Out
Output Power Control (Speaker Protection)
Adjustable longterm RMS Limiter
Protection
Mixer Outputs (Relay controlled)
MON 1, MON 2, MASTER A
Amplifier
Audio Limiters, High Temperature, DC, HF, Short Circuit, Peak Current Limiters, Turn-on Delay,
Back EMF
Switching Mode Power Supply (μC controlled)
Inrush Current Limiters, Mains Over/Undervoltage, Mains Over Current, High Temperature
Cooling
Continuous speed controlled Fans
Phantom Power, switchable in groups
48 V DC
Power Requirements (SMPS with auto range mains input)
100 V to 240 V AC, 50 Hz to 60 Hz
Power Consumption, at ⅛ maximum output power, 4 Ohms
450 W
Safety Class
I
Ambient Temperature Limits
+5 °C to +40 °C (40 °F to 105 °F)
Dimensions (W x H x D), mm
With lid:
510.5 x 164.5 x 571.5
Rack-mount:
483.0 x 135.0 x 443.7
Weight
Net Weight, without lid
12.5 kg
Net Weight, with lid
14 kg
Shipping Weight
17 kg
Warranty
36 months
Optional Accessories
RMK-1000-3 (Rack Mount Kit for PowerMate 1000)
F01U161506 (DC-RMK1000-3)
Gooseneck Lamp, 12V/5W, 12", XLR 4 pol.
F01U118983 (DC-LITLITE-4P)
FS 11 (Footswitch with LED)
F01U100598 (DC-FS11)
Channels (Mono + Stereo)
6 + 4
Auxiliarys (MON, FX, AUX)
2 Pre, 2 Post, 2 Pre/Post switchable
Max. Single Channel Output Power, Dynamic-Headroom, IHF-A
into 2.66 Ohms
2 x 1600 W
into 4 Ohms
2 x 1250 W
into 8 Ohms
2 x 675 W
Specifications
Max. Single Channel Output Power, Continuous, 1 kHz, THD = 1%
into 2.66 Ohms
2 x 1350 W
into 4 Ohms
2 x 1150 W
into 8 Ohms
2 x 650 W
Maximum Midband Output Power, 1 kHz, THD = 1%, Dual Channel
into 2.66 Ohms
2 x 1350 W
into 4 Ohms
2 x 1000 W
into 8 Ohms
2 x 600 W
Rated Output Power, 20 Hz to 20 kHz, THD < 0.5%, Single Channel
into 4 Ohms
2 x 900 W
into 8 Ohms
2 x 450 W
Maximum Output Voltage, of power amplifier, 1 kHz, no load
74 Vrms
THD, at 1 kHz, MBW = 80 kHz
MIC input to Master A L/R outputs, +16 dBu, typical
< 0.005%
POWER AMP INPUTS to Speaker L/R outputs
< 0.075%
DIM 30, power amplifier, 3.15 kHz, 15 kHz
< 0.05%
IMD-SMPTE, power amplifier, 60 Hz, 7 kHz
< 0.15%
Frequency Response, -3 dB, ref. 1 kHz
Any input to any Mixer output
15 Hz to 70 kHz
Any input to Speaker L/R output
20 Hz to 30 kHz
Crosstalk, 1 kHz
Amplifier L/R
< -85 dB
Channel to Channel
< -80 dB
Mute- and Standby-Switch attenuation
> 100 dB
Fader and FX/AUX/MON-Send attenuation
> 85 dB
CMRR, MIC input, 1 kHz
> 80 dB
Input Sensitivity, all level controls in max. position
MIC
-74 dBu (155 μV)
LINE (Mono)
-54 dBu (1.55 mV)
LINE (Stereo)
-34 dBu (15.5 mV)
CD (Stereo)
-34 dBu (15.5 mV)
POWER AMP INPUTS
+8 dBu (1.95 V)
Maximum Level, mixing desk
MIC inputs
+21 dBu
Mono Line inputs
+41 dBu
Stereo Line inputs
+30 dBu
All other inputs
+22 dBu
All other outputs
+22 dBu
Input Impedances
MIC
2 kOhms
Insert Return
3.3 kOhms
2Track Return & CD In
10 kOhms
All other inputs
> 15 kOhms
Output Impedances
Phones
47 Ohms
All other outputs
75 Ohms
Equivalent Input Noise, MIC input, A-weighted, 150 ohms
-130 dBu
Noise, Channel inputs to Master A L/R outputs, A-weighted
Master fader down
-97 dBu
Master fader 0 dB, Channel fader down
-91 dBu
Master fader 0 dB, Channel fader 0 dB, Channel gain unity
-83 dBu
Signal/Noise-Ratio, power amplifier, A-weighted, 4 Ohms
105 dB
Output Stage Topology, amplifier
Class D
Equalization
LO Shelving
±15 dB / 60 Hz
MID Peaking, mono inputs
±15 dB / 100 Hz to 8 kHz
MID Peaking, stereo inputs
±12 dB / 2.4 kHz
HI Shelving
±15 dB / 12 kHz
Master EQ 11-band (63, 125, 250, 400, 630, 1k, 1.6k, 2.5k, 4k, 6.3k, 12k Hz)
±10 dB / Q = 1.5 to 2.5
Filter
LO-CUT, mono inputs
f = 80 Hz, 18 dB/oct.
VOICE FILTER, mono inputs
switchable
FEEDBACK FILTER, MON 1/2
70 Hz to 7 kHz, Notch, -9 dB
Speaker Processing
LPN, switchable
Effects
Type
Dual stereo 24/48-bit multi effects processors
Effects presets
100 Factory + 20 User, Tap-Delay
Remote control
Footswitch, MIDI
Display
128 x 64 pixels, OLED
Digital Audio Interface
Channels
4 In / 4 Out
AD/DA Conversion
24-bit
Sampling Rate
44.1 / 48 / 88.2 / 96 kHz
PC Interface
USB2.0, Female Type B
Peak Display
6 dB before Clip
MIDI Interface
5-pin DIN connector, In / Out
Output Power Control (Speaker Protection)
Adjustable longterm RMS Limiter
Protection
Mixer Outputs (Relay controlled)
MON 1, MON 2, MASTER A
Amplifier
Audio Limiters, High Temperature, DC, HF, Short Circuit, Peak Current Limiters, Turn-on Delay,
Back EMF
Switching Mode Power Supply (μC controlled)
Inrush Current Limiters, Mains Over/Undervoltage, Mains Over Current, High Temperature
Cooling
Continuous speed controlled Fans
Phantom Power, switchable in groups
48 V DC
Power Requirements (SMPS with auto range mains input)
100 V to 240 V AC, 50 Hz to 60 Hz
Power Consumption, at ⅛ maximum output power, 4 Ohms
450 W
Safety Class
I
Ambient Temperature Limits
+5 °C to +40 °C (40 °F to 105 °F)
Dimensions (W x H x D), mm
With lid:
510.5 x 164.5 x 571.5
Rack-mount:
483.0 x 135.0 x 443.7
Weight
Net Weight, without lid
12.5 kg
Net Weight, with lid
14 kg
Shipping Weight
17 kg
Warranty
36 months
Optional Accessories
RMK-1000-3 (Rack Mount Kit for PowerMate 1000)
F01U161506 (DC-RMK1000-3)
Gooseneck Lamp, 12V/5W, 12", XLR 4 pol.
F01U118983 (DC-LITLITE-4P)
FS 11 (Footswitch with LED)
F01U100598 (DC-FS11)