Loa siêu trầm có công suất EV EKX-18SP
(0 đánh giá)
Mã SKU:
Mã hàng : EKX-18SP
Bảo hành : 12 tháng
Tình trạng : Còn hàng
Xuất xứ: Germany
Số lượng
Tư vấn & Báo giá
Loa siêu trầm có công suất EV EKX-18SP
Loa siêu trầm có công suất EV EKX-18SP là bộ loa siêu trầm của thương hiệu Electro Voice hiện được nhập khẩu và phân phối chính hãng bởi electro-voice.vn tại Việt Nam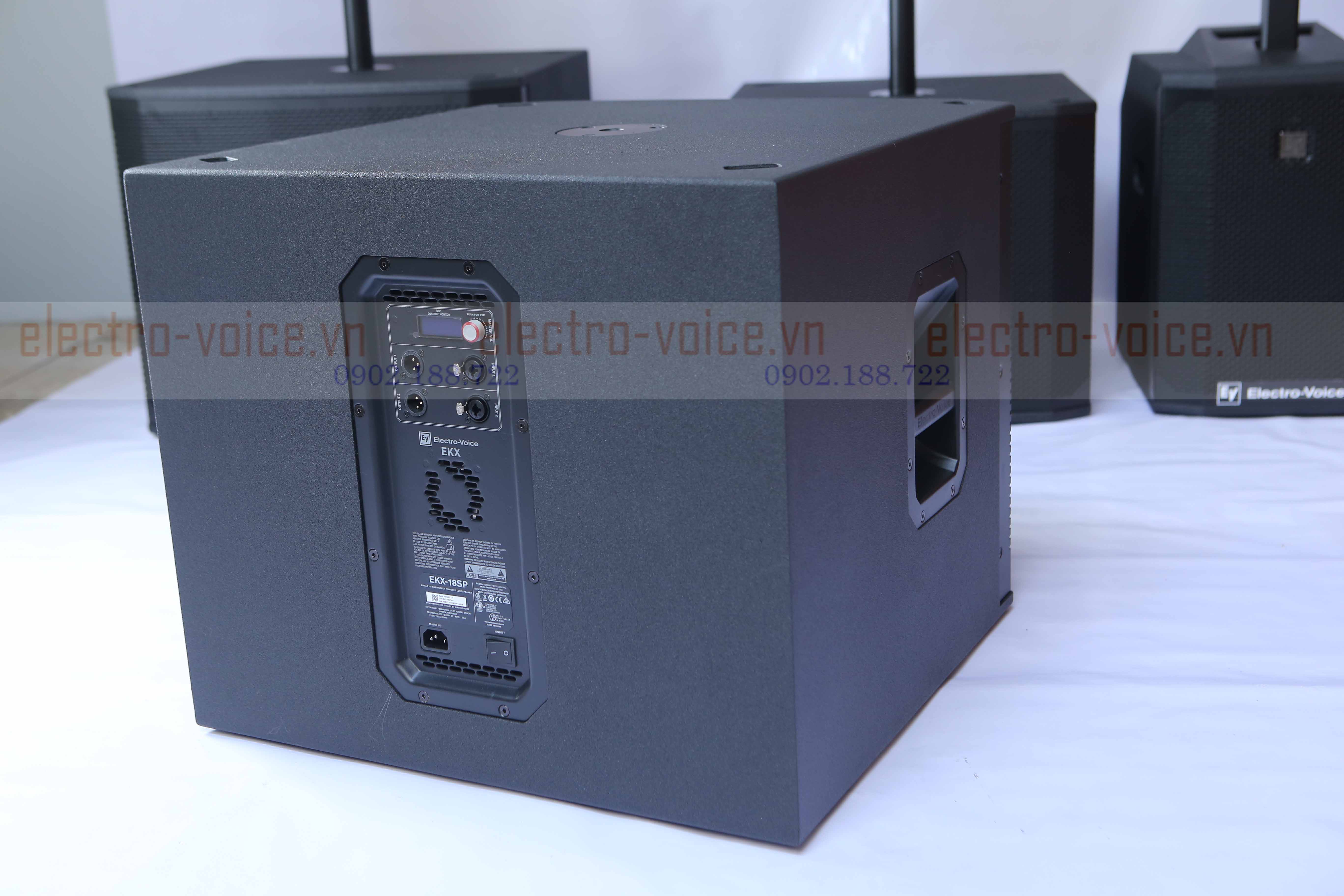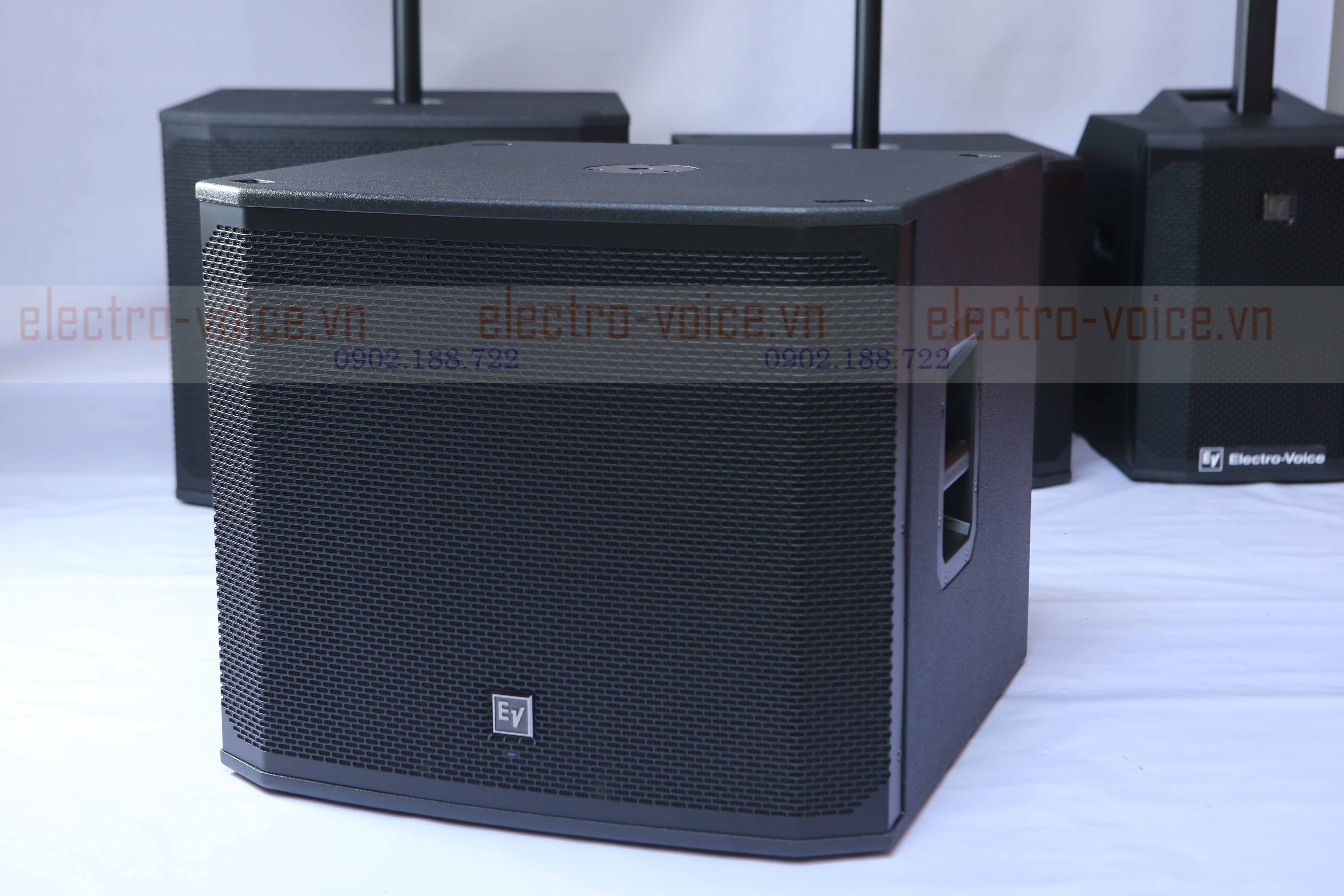 If you want to maximize your performance with killer sound and best-in-class features, the Electro-Voice EKX-18SP is a great way to do it. Experience powerful bass and room-shaking volume, courtesy of a 18" woofer and 1,300-watt amplifier. Benefit from low distortion and superior bass extension, thanks to the EKX-18SP's large slot ports. Enjoy a 35dB reduction in stage noise, thanks to EV's exclusive Cardioid Control Technology. Digital signal processing provides convenient presets, system-match crossovers, and more. The Electro-Voice EKX-18P's rugged wood enclosure was built for hard touring, and multiple mounting points make installation a breeze.
The EKX-18P features two XLR/TRS inputs that accommodate the connection of just about any piece of gear. Flexible gain controls and a convenient clip indicator make calibrating your sound a piece of cake. The EKX-18P is linkable to a speaker or another sub via a pair of Output jacks.
>> xem thêm Loa Electro - Voice: EKX Series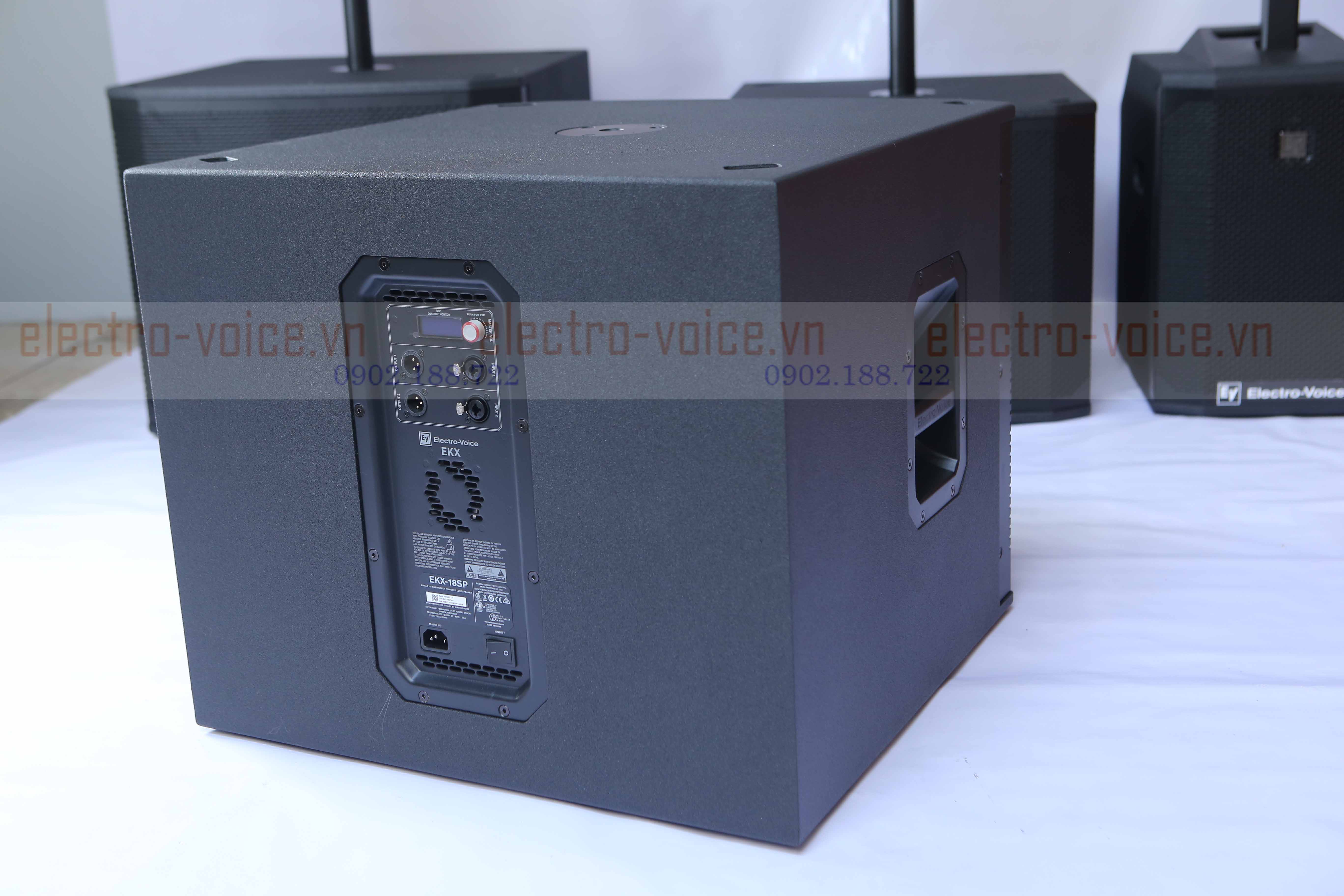 Electro-Voice's EKX Series combines first-rate sound quality with state-of-the-art technology. Great for portable and installed applications alike, these speakers cover a wide range of sound reinforcement needs. Top-quality components, EV's exclusive Cardioid Control Technology, efficient Class D amplifiers, and OuickSmartDSP processing combine to deliver precise coverage and first-class sound. And industrial-strength wood enclosures with durable EVCoat finish ensure that your speakers can endure the rigors of live use. At Sweetwater, we've found that these speakers work great in any application. You can expect top performance from the EKX Series.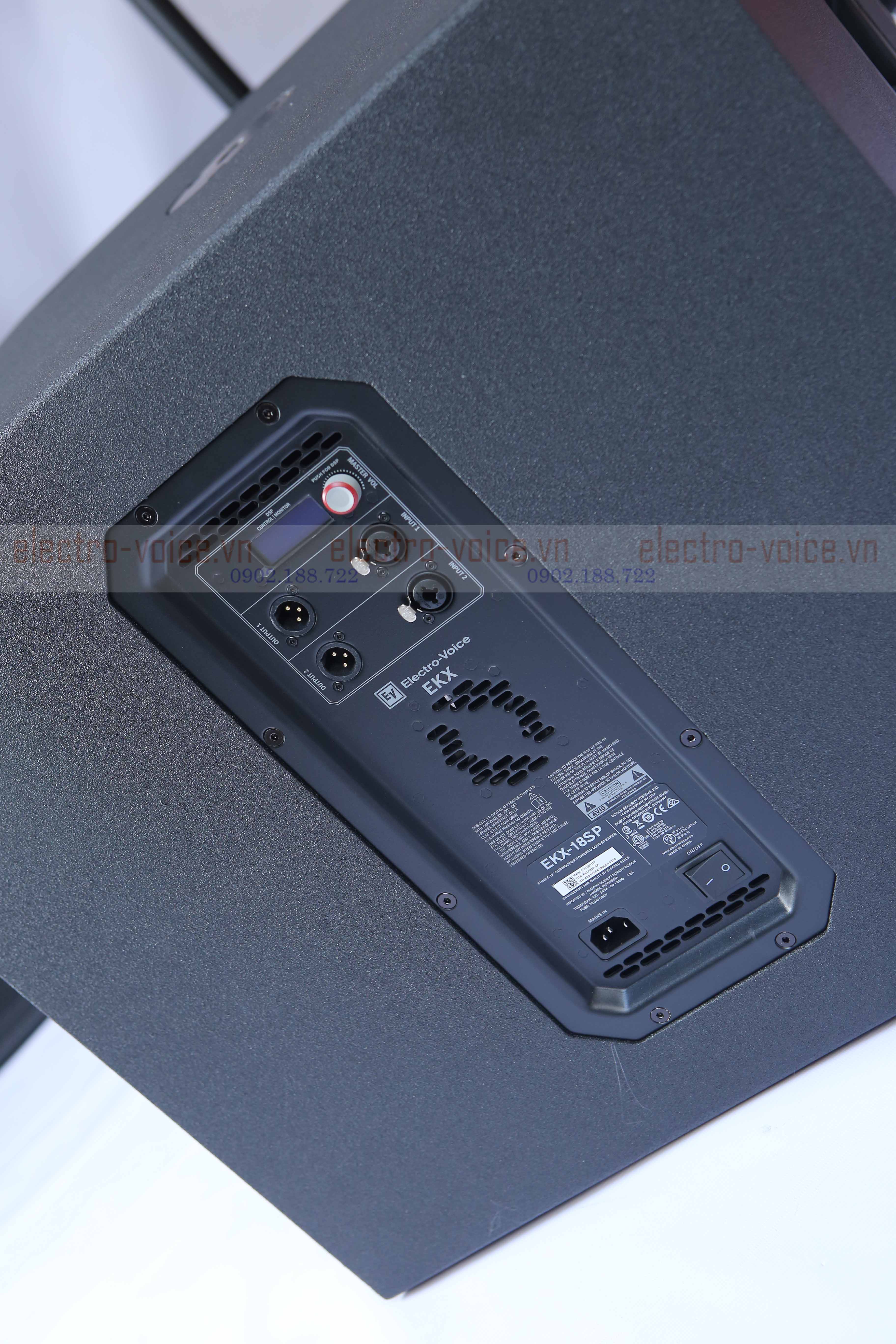 Đặc điểm nổi bật của loa siêu trầm có công suất EV
1,300W Class D amplifier and 18" woofer
134dB maximum SPL for room-shaking volume
Cardioid Control Technology provides a 35dB reduction in stage noise
XLR/TRS combo inputs accommodate just about anything
QuickSmartDSP provides effective system optimization with presets for your application and location
Intelligent thermal management with variable-speed fan keeps your system cool
Integrated pole mount for easy speaker installation
Light weight and built-in handles provide for easy transportation
Rugged, road-ready construction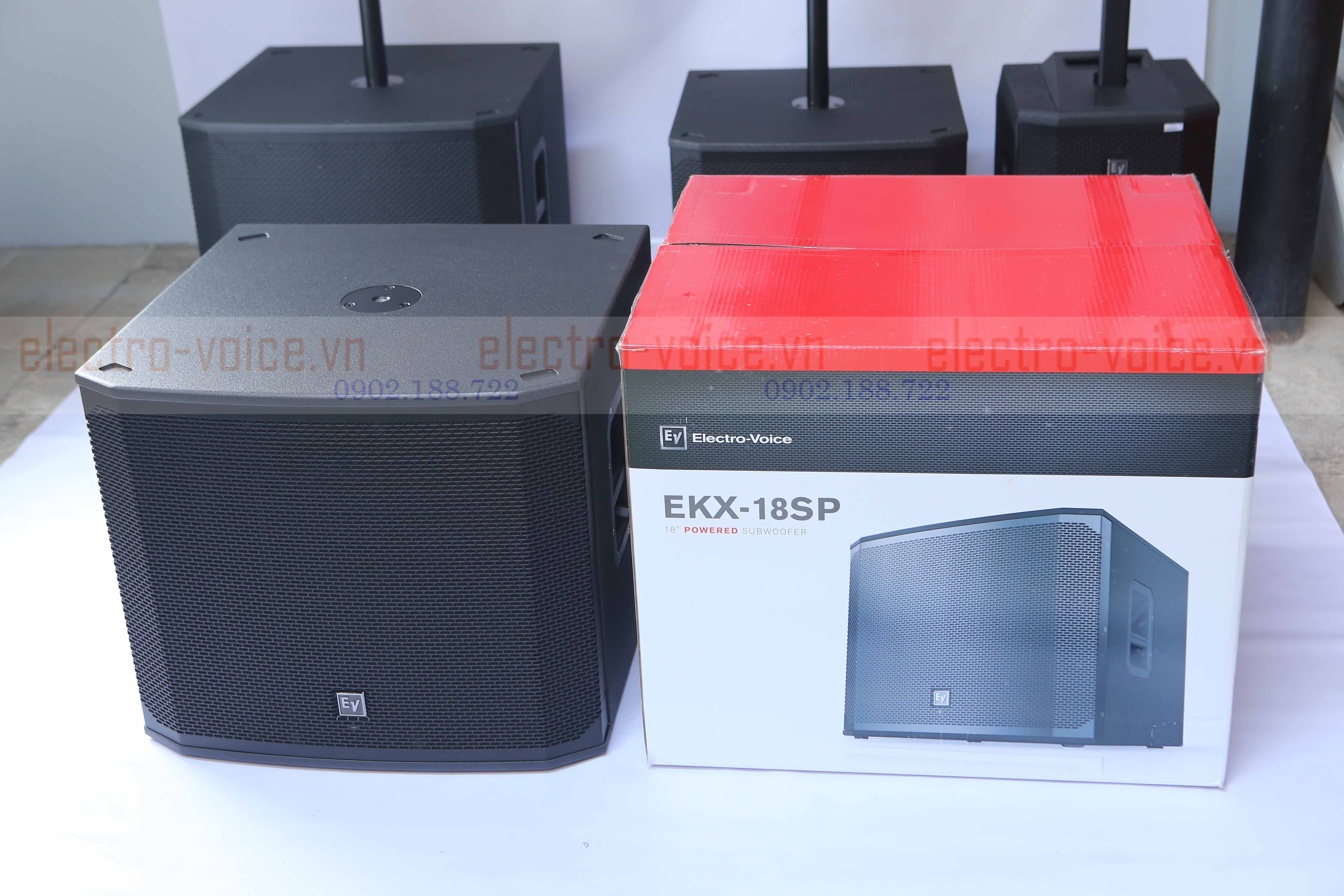 Thông số kĩ thuật EV EKX-18SP
| | |
| --- | --- |
| Model | EKX-18SP |
| Powered/Unpowered: | Powered |
| LF Driver Size: | 1 x 18" EVS-18C subwoofer |
| Power Rating: | 1300W |
| Inputs: | 2 x XLR-1/4" combo |
| Outputs: | 2 x XLR |
| Frequency Response: | 40Hz-150Hz (-3 dB), 35Hz-180Hz (-10dB) |
| Crossover Frequency: | Low Pass adjustable (80Hz, 100Hz, 120Hz, 150Hz) |
| Maximum Peak SPL: | 134 dB SPL @ 1m |
| Signal Processing: | QuickSmart DSP |
| Enclosure Material: | 15mm plywood with EV coat and 18 gauge steel grille |
| Mounting Options: | Floor |
| Height: | 20.4" |
| Width: | 23.8" |
| Depth: | 24.0" |
| Weight: | 72.3 lbs. |